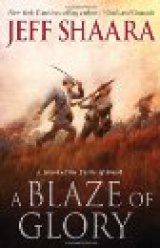 I have a difficult time reading text-book accounts of military operations. As a Civil War enthusiast, that poses a problem. It's not that I don't understand those text-book accounts. Truth is, I simply find them boring. ZZZZZZZZZZZZZZZZZZZ.
However, I very much enjoy reading dramatic accounts of historical events. Guess that's one of the reasons why I'm a literature teacher/professor. I love a good story.
Earlier today, I finished reading Jeff Shaara's novel A Blaze of Glory: A Novel of the Battle of Shiloh. Loved it.
Book reviewer David N. Kinchen wrote "I particularly like how Shaara toggles between the actions of the generals on both sides, and the ghastly events of the war as experienced by the "grunts,"making the historical novel (with the emphasis on historical) well-rounded. Even though Shaara advises the reader in his "To The Reader" to read historians Shelby Foote and Jim McPherson if you want a detailed history of the Battle of Shiloh, I think even those eminent historians would recommend A Blaze of Glory to the general reader."
Even before I finished reading the novel, I started researching the battle it speaks of: the generals, the places, the causes, the strategies, the triumph, the tragedy…and yes, the glory. Yes, I must admit, I read several "text-book" accounts. You see, once I get the story in me, once the story lights that fire of discovery within me, I'll read anything to make that fire burn and burn hot.
Over the next few days, I'd liked to share my thoughts regarding Shiloh. Hopefully, some of my Civil War compatriots will join in the discussion.
Related articles